Sean Combs, AKA Puff Daddy, P. Diddy, Diddy, Father Love, etc, is at it again. This time, they have caught the business mogul in another He said; she said kerfuffle. This time his former girlfriend of 9 1/2 years, Cassandra (Cassie) Ventura, sued in Manhattan federal court, accusing Sean Combs raping her, sex trafficking, drugging her, and forcing her to have sex with multiple male prostitutes and other music executives.
The suit alleges that for thirteen years, starting in 2005, the Bad Boy Records label owner Sean Combs held Ms. Ventura as a sex slave, beat and stomped her bloodied. The brutal abuse went on until 2018, when Cassie broke up with Combs over dinner.
In 2019, Ms Ventura married Alex Fine, and the couple has one child. They figured "it's time to get paid and blow up like the World Trade." The Notorious Big.
While Combs/Diddy forced Ms. Ventura to work as a Harlot and into performing immoral sex acts, Combs would watch/videotape the show and beat off his little Willie. Cassie Ventura is also alleging Combs blew up Rapper Kid Cudi's car.
Sean Combs, owner of Revolt Television and Magazine, has hired New York based Benjamin Brafman, Hollywood's top (back door) deal-making attorney. Brafman is the most well-connected lawyer to the stars, judges, and prosecutors. 
Sean (Diddy) Combs is no stranger to controversy. 
In the eyes of many, they believe Sean Combs had some involvement in the killing of Biggie Small. Actress/model Kim Porter's sister also accused Puffy of killing his baby mama Kim Porter — according to Porter's sister Tamia. According to doctors, on November 15, 2018, Ms. Porter, the model/actress, died from pneumonia at age 47.
According to Cassie's complaint, Diddy threatened to kill Rap Artist Kid Cudi when he discovered Cudi was knocking her off on the side. Soon after that, Cudi's car exploded. The word on the street is that the explosion may have been a planned dramatic show to impress Cassie — no real threat to Kid Cudi.
In 1999, while at the "Hot Chocolate" nightclub, a Midtown Club in New York, on December 28, Sean Combs/Puff Daddy entourage member (Shyne) was involved in shooting up the lounge. Police moved in and detained Puff and his then-girlfriend, 30-year-old Jennifer Lopez, for 18 hours. His artist Shyne took the fall for that incident. After that incident, J-Lo's mother ordered her to escape the Negrillo, Puffy.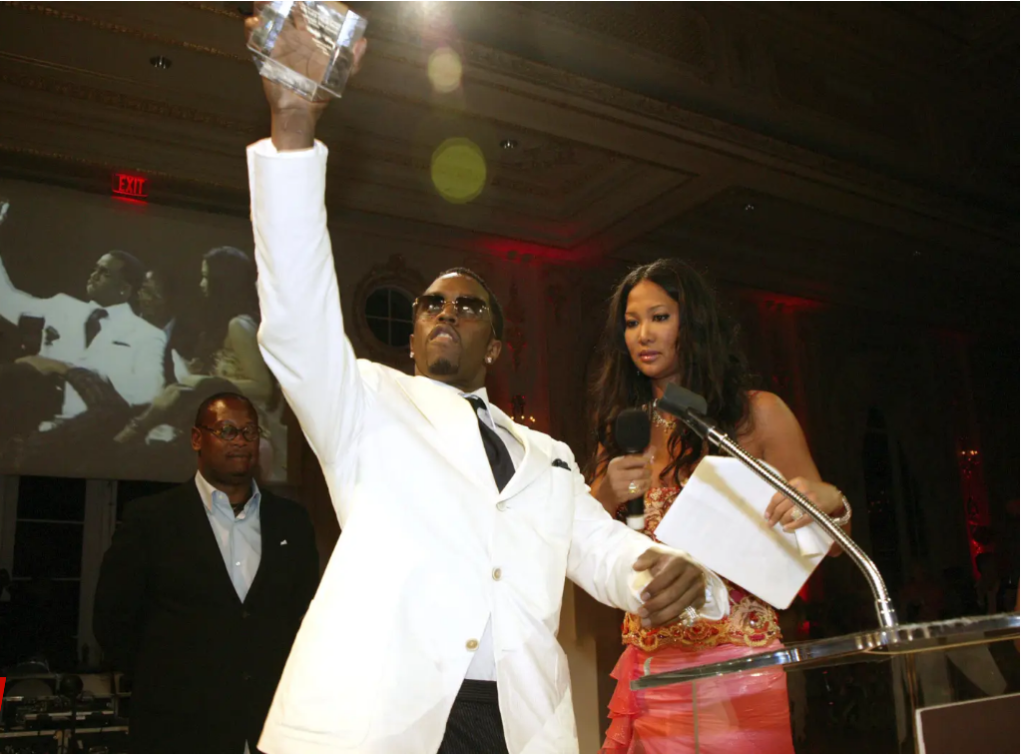 Sean Combs AKA P. Diddy With Russell Simmons's Ex-wife Kimora Lee Simmons.
Kimora Lee Simmons, the ex-wife of Def Jam Recordings co-founder Russell Simmons, recalled that while at Mar-a-Lago in Palm Beach, Florida, United States, for a ceremony honoring Diddy, Diddy once threatened to hit her. The threat came after a war of words between the two. Kimora added Diddy got down on his knees and publicly apologized to her after the incident, as reported by New York magazine. 
Kimora said, "And I was pregnant! The moron!" In the New York magazine article, Kimora said of Diddy, "And I appreciate knowing that everything he does is emulating my husband." Wow.
In June 2022, Diddy publicly said he was dating 28-year-old Rapper Yung Miami and hosting the "Caresha, Please" podcast. Caresha is one half of the rap duo City Girls. The announcement came upon the heels of Diddy making public the birth of his 7th child, born to 28-year-old Dana Tran, a cyber security specialist, according to TMZ. Diddy is unlikely to lay paws on Yung Miami because she is from Opa-Locka, Florida. In Opa-Locka, the women will cut you deep if you lay hands on them.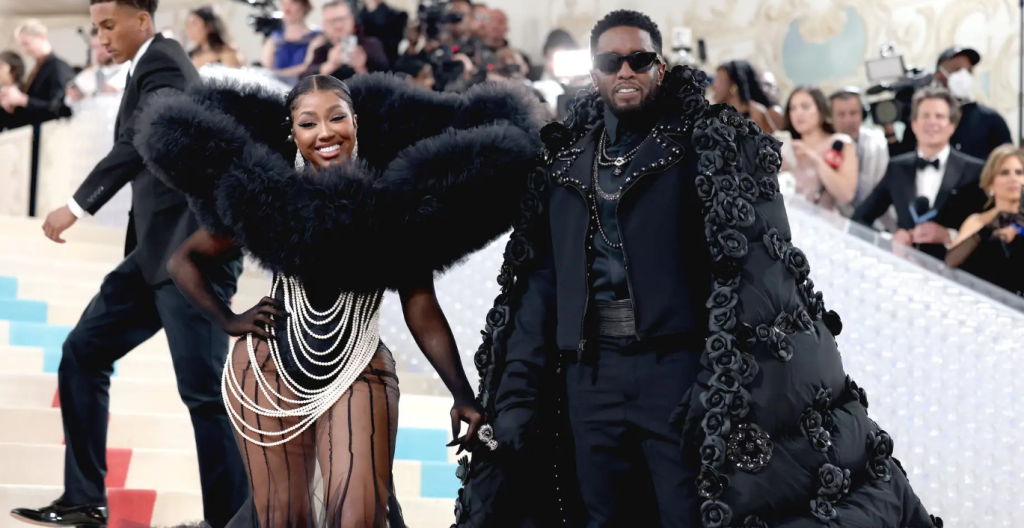 P. Diddy With His Latest Ferris Wheel, Yung Miami. When Will She Cash-out?
Thursday, Ben Brafman was making a lot of noise in defense of his client Sean (P. Diddy) Combs). Ben Brafman said my client "vehemently denies these offensive and outrageous allegations."

"For the past six months, Mr. Combs has been subjected to Ms. Ventura's persistent demand of $30 million, under the threat of writing a damaging book about their relationship, which was unequivocally rejected as blatant blackmail." Brafman made this statement while negotiating a settlement with the "Blackmailer," Cassandra (Cassie) Ventura.
"Despite withdrawing her initial threat, Ms. Ventura has resorted to suing. They (her attorneys) riddled her lawsuit with baseless and outrageous lies, aiming to tarnish Mr. Combs' reputation and seeking a payday."
By Friday evening, Diddy and his attorney, Ben Brafman, made a deal to pay off the 37-year-old Cassie Ventura to quash the lawsuit. Cassie had to sign an NDA, a Non-Disclosure Agreement.
Ms. Ventura's payday has arrived. And she didn't have to go to Pay Loan to get it.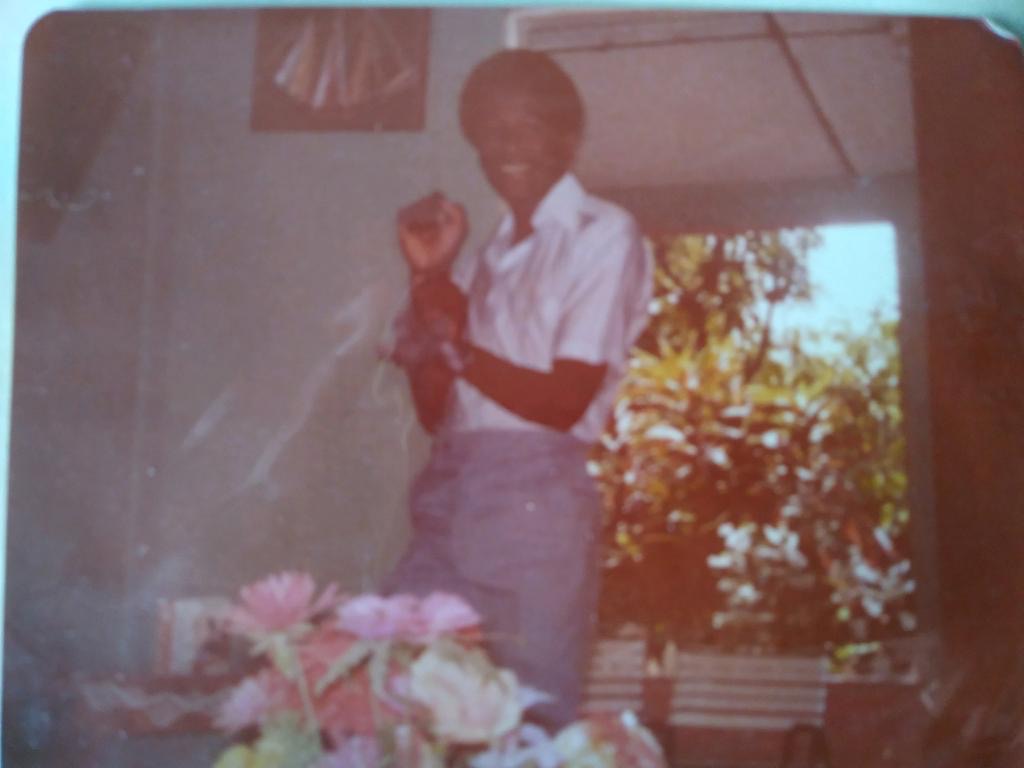 Clinton Franklin is a formally trained Computer Scientist and a writer at heart. Clinton is an avid observer of nature, a lover of people and diverse cultures. He adheres to the adage, "Think global but act locally."
It is crucial to be forward-thinking but not a froward person. "Be kind to everyone you meet, because each is carrying his heavy burden…" Plato.
Embrace the three Constance: Change, Justice, and Rightness.
The thought police are busy at work trying to suppress free speech — if allowed their march to madness — they will arrest your very thoughts.