Ham Sandwich "Indictments."
The man poised to most likely become the next President of the United States (Florida Governor Ron De Santis) is showing his political foes that given a chance to bury them, he will bury them any way he can. DeSantis is using all and any power at his disposal to punish Broward County Democrat school board members. In a highly controversial move, On August 26, DeSantis removed four duly elected Broward School Board Democrat members from their posts and installed four Republican politicians to replace them. A fifth member Dr. Rosalind (scarecrow clueless) Osgood would have faced the same fate, except she fled the scene, and went to the Florida Senate—before the axe fell. 
In June 2019, following the February 13, 2018, Marjory Stoneman Douglas High School (MSDHS) massacre, the Florida Supreme Court empaneled a grand jury to investigate the MSDHS tragedy at the behest of Republican Governor Desanti. Its purpose was to examine waste (cost overrun) in the $800 million SMART Bond project, flesh out the "reason" for the shortfall in MSDHS school security, and ensure such senseless tragedy does not happen on Broward County Public Schools' (BCPS) properties. 
However, as the grand jurors' final report states, the primary purpose of its impaneling was to investigate the MSDHS tragedy. They attached the SMART Bond project to the investigation because it's more likely to find corruption among public officials where contracts and large sums of money are involved.
Besides the August 26 suspension of the four (BCPS) Board members, on September 09, Broward Schools Superintendent Vicky L. Cartwright (under pressure) asked three top District administrators (Ron Morgan an Assistant Building Director, Jeff Moquin Chief of Staff and David Watkins Director of Diversity) to resign while they're under investigation for grand jury accusations of incompetence, misfeasance, malfeasance neglect, and deceit. Suspended Board member Laurie Rich Levenson points out that none of them have been accused of fraud — thus the grand jury has not returned with an indictment. The Board hired Dr. Vicky Cartwright in violation of the terms of agreement for initially accepting the temporary position of Broward County Public Schools Superintendent. On September 16, three of the administrators have resigned, instead of termination. A third administrator Ron Morgan's resignation will take effect on December 22, 2022.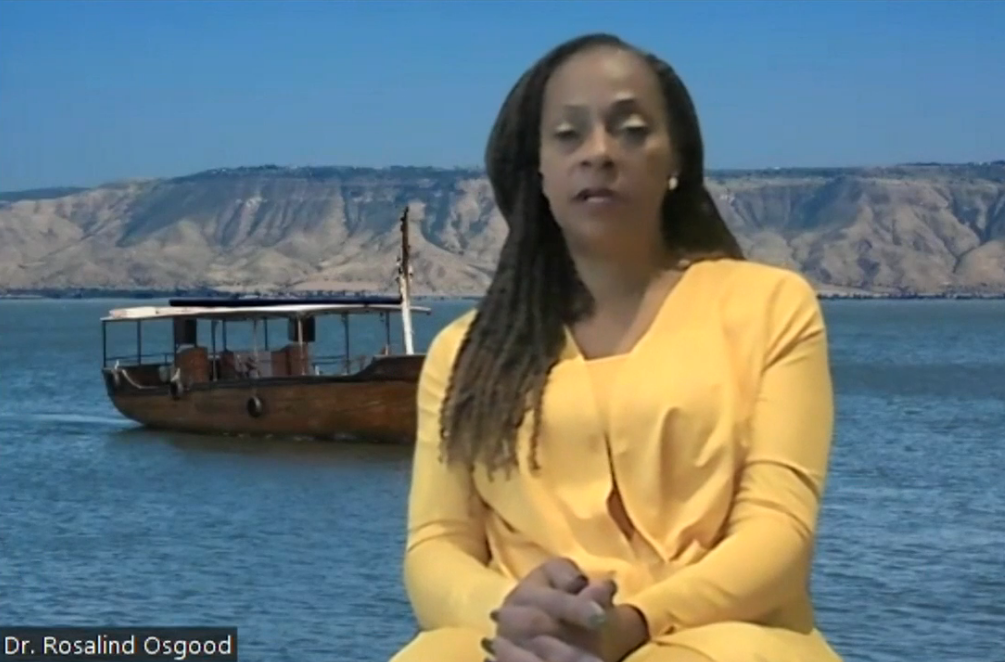 Dr. Ding Dong Rosalind (airhead) Osgood, another target of Governor Ron DeSantis, escaped the falling axe by the skin of the teeth.
She went to a safe space, hide out harbor in the Florida Senate.

Board Members Gov DeSantis removed from office left to right: Patricia Good, Donna Korn, Ann Murray and Laurie Rich Levinson.

In June, the Governor's Twentieth Statewide Grand Jury completed its final report. On Friday, August 19, 2022, the Governor's office made its findings public. The 121-page report reads like Nancy Drew and Hardy Boys novels. The Grand Jury novel makes for a good read. Still, it's not necessarily a Perry Mason-styled indictment that is free of political entanglements, nor is it entirely fact-based — in all aspects of its conclusions.
This De Santis' – FINAL REPORT (SWGJ) is not an unbiased-styled Kerner's Report of 1968. The only parallel between Governor De Santis' (SWGJ) report and Kerner's Report is they both make clear lines of demarcation in America's societies. Kerner points out we live in two Americas, one Black, one White. The Governor's report makes clear: Today, to a degree, we live in two Americas, one Republican, one Democrat. A Republican party of outright cowards that leans increasingly towards Donald J. Trump's brand of Nazism — Make America Great Again or The South Shall Rise Again. 
On February 13, 2018, a lone psychopath Nikolas Cruz walked into Marjory Stoneman Douglas High School (MSDHS) in Parkland, Florida, slaughtered 17 students and staff members, and injured 17 others. Not only was Nikolas Cruz's February 13, 2018 act deliberate, cold-blooded, and well-calculated down to his method of escape — the massacre revealed security shortfalls in the Broward County Public Schools (BCPS) system writ large.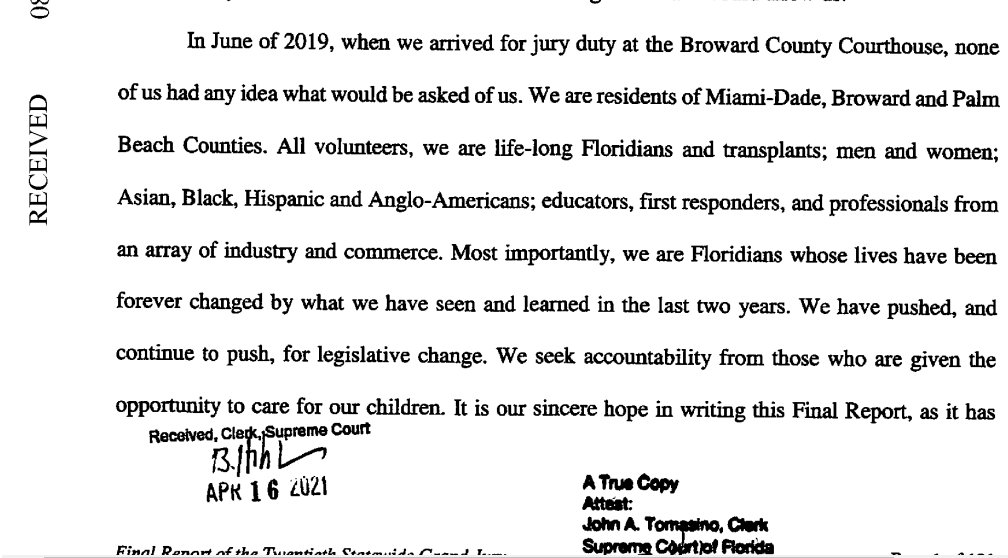 The above statement, "When we arrived for jury duty at the Broward Courthouse, none of us had any idea what they would ask of us." That is a true statement. But grand juries are like babies. They come into the world with a clean slate/mind. Then their parents paint their beliefs and expectations on the minds of the children. GIGO (garbage in, garbage out.) Before long, kids perform for their parents to fulfill their wishes. Most kids will identify with their parents, family members and peers.
The State or the prosecuting attorneys are the parents of grand juries. Most DAs are more skilled at painting pictures on minds and influencing thoughts and behaviors than most parents. Hence, the phrase "you can indict a ham sandwich"—if that is what the Prosecuting Attorney wants.
The Kerner Report is perhaps the most unbiased Commissioner's Reports, where a "Grand Jury" examined facts, proofs, life and circumstances to issue and indictment that concludes, "Our nation is moving toward two societies, one black, one white—separate and unequal,"
Governor Ron DeSantis commissioned report, while laden with some facts, they steep its conclusions in political chicanery and retributions on Democrat political enemies.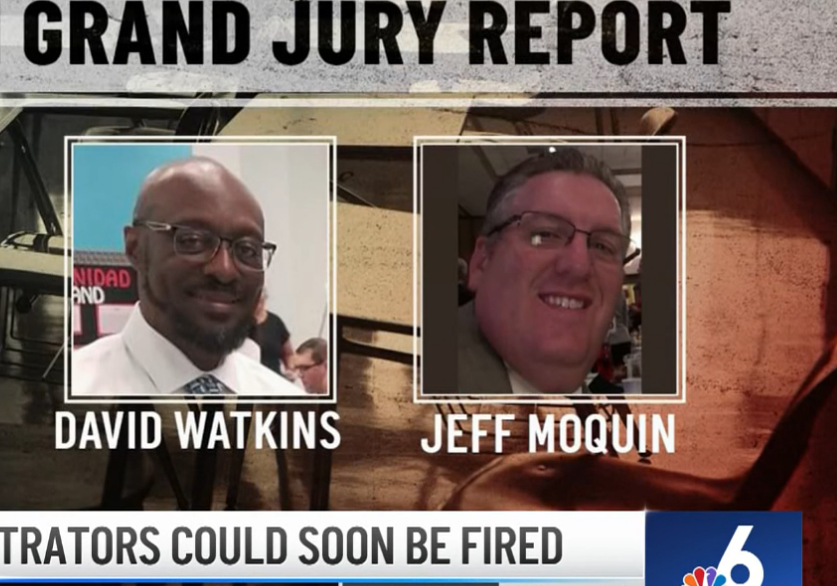 Forced out: David Watkins Director of Diversity and School Climate, and Jeff Moquin Chief of Staff.
The Final Report of the Twentieth Statewide Grand Jury
(De Santis crew), a non-partisan, multi-cultural, multi-ethnic, multi-denominational group. Me thinks they protest too much. This Tri-Lateral Commission jury, or were they tri-county — Miami Dade, Broward, and Palm Beach County panel, during their investigation they turned up several bucket lists of corruption, or perhaps some actual crime? The Grand Jury has indicted no one, nor has the prosecutor charged anyone for fraud. They indicted Superintendent Robert Runcie for lying to the Grand Jury, but that was to get him out of office so they could install a White woman in his place.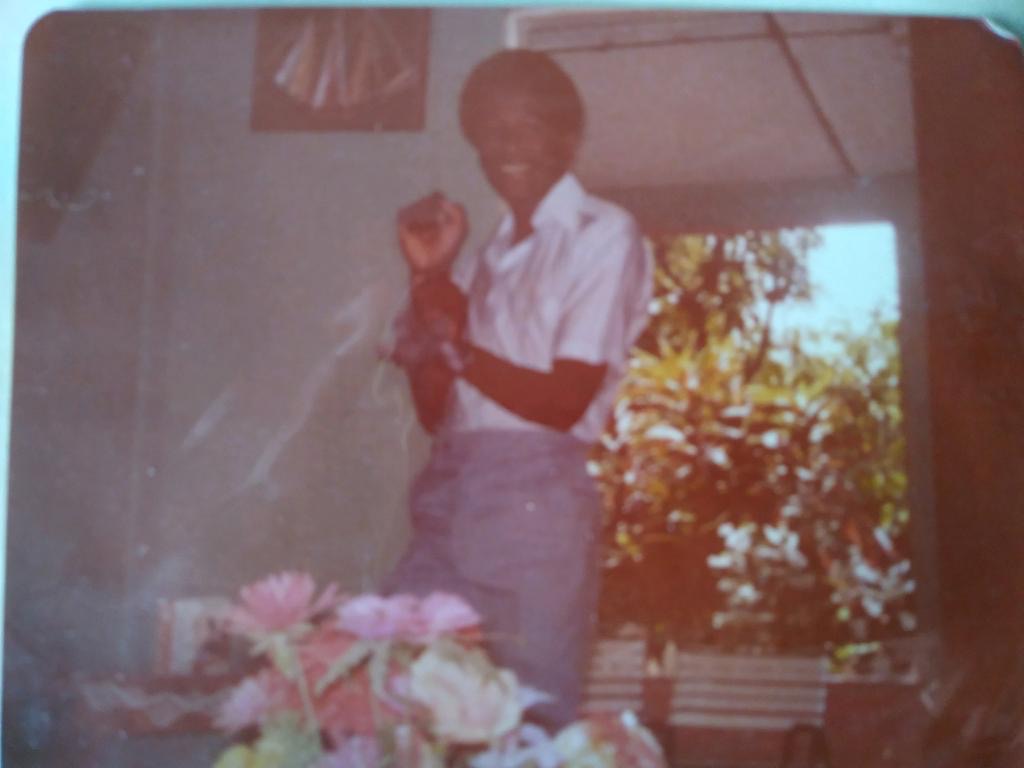 Clinton Franklin is a formally trained Computer Scientist and a writer at heart. Clinton is an avid observer of nature, a lover of people and diverse cultures. He adheres to the adage, "Think global but act locally."
It is crucial to be forward-thinking but not a froward person. "Be kind to everyone you meet, because each is carrying his heavy burden…" Plato.
Embrace the three Constance: Change, Justice, and Rightness.
The thought police are busy at work trying to suppress free speech — if allowed their march to madness — they will arrest your very thoughts.