As the Biden Administration continues its wholesale transfer of the country of Afghanistan to the shores of the United States. Invoking the seventy-nine-year-old War Powers Act passed in 1942 that gives the government the authority to take over commercial airlines to help keep Americans safe, et al. — President Biden has enacted the rarely used statute to speed up transferring terrorist sleeper cells to cities across America.
Isis-K, a military arm of the Terror Squad, A.K.A. the Taliban, carried out a coordinated attack at the Kabul Airport, Abbey Gate, and Baron Hotel, killing at least 13 US Marines and injuring another 18 service members — according to the Pentagon.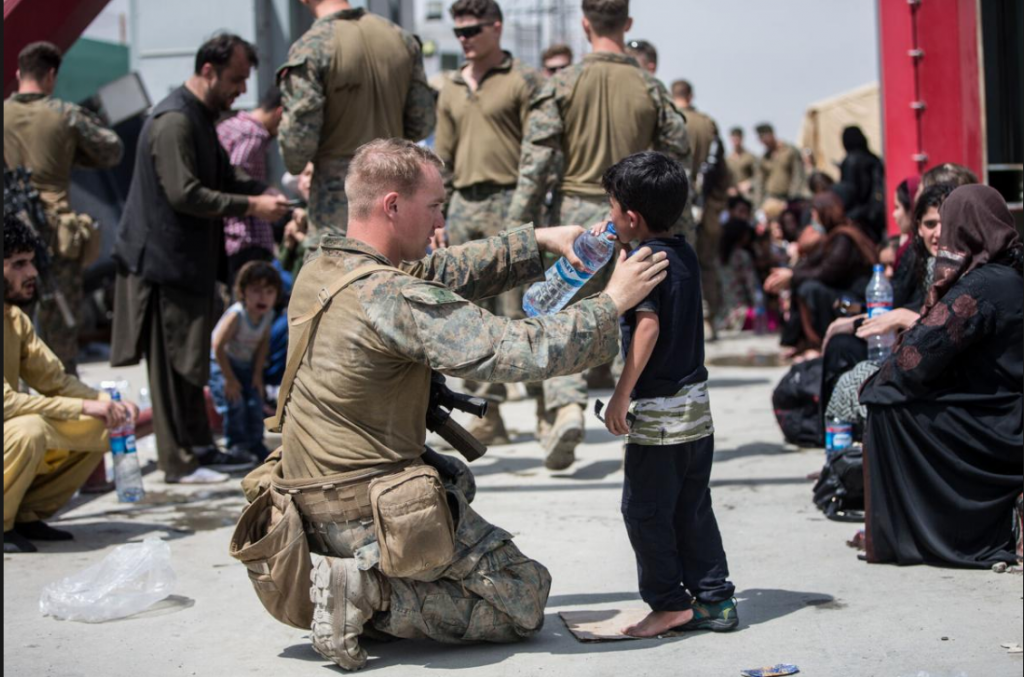 An American Marine Gives A Thirsty Afghan Boy A Drink of Water.
The Marines carried out their duty helping Americans and protecting those who wished to vacate Afghanistan before the Taliban takes complete control of the Kabul airport and all roads leading to it. 
Come August 31, 2021 the Taliban, al-Qeada and Isis will take possession of U.S. military tanks, airplanes, helicopters and an arsenal of other high-grade military equipment gifted to them by the Biden Administration. While it is a plausible strategy, wherein the Taliban and its counter parts al-Qeada and Isis can use those weapons to defend against a Chinese future incursion, the Taliban could use these same weapons against Americans. The gift is a serious blunder.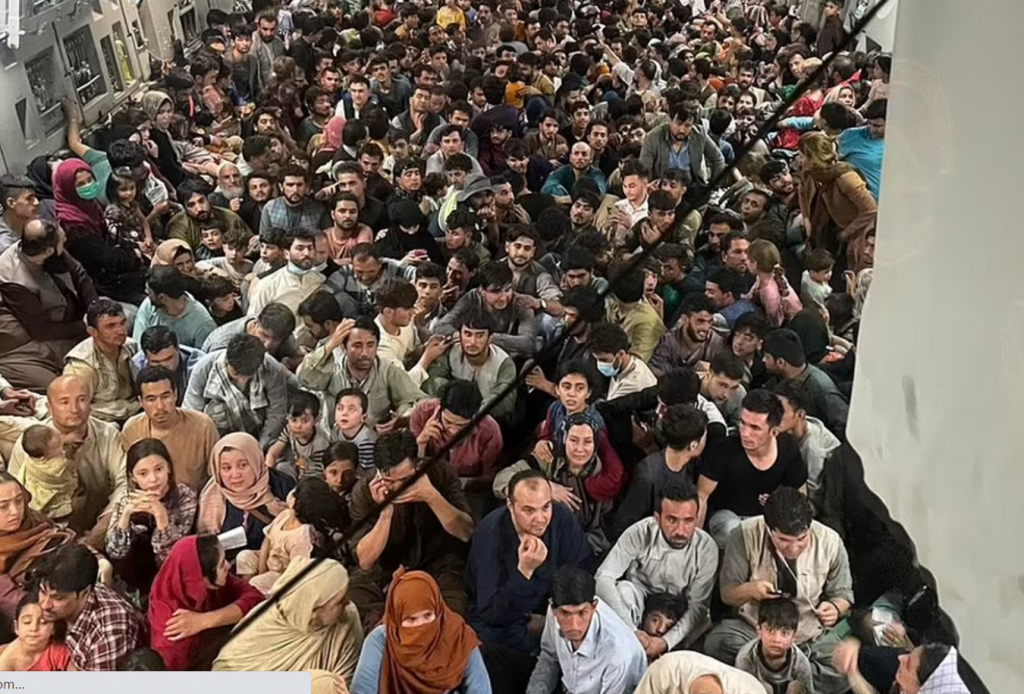 Well, at least, most of the 15 women, on a flight of 680 Afghanis entering America are wearing mandatory face mask.
When President Biden and his cohorts broke the eleventh commandment and negotiate with terrorists, they should have at least done so from a position of strength — and not a position of weakness. Biden and his team should have sent Videos of the mushroom clouds over Nagasaki and Hiroshima to all leaders of the Afghanistan terrorist groups. This how one negociates with terrorists. Of course, the neighboring nuclear power Pakistan's President and his top generals would have to be bribed to keep them at bay, as was President Pervez Musharraf who was on the take for years, before fleeing to Brittain.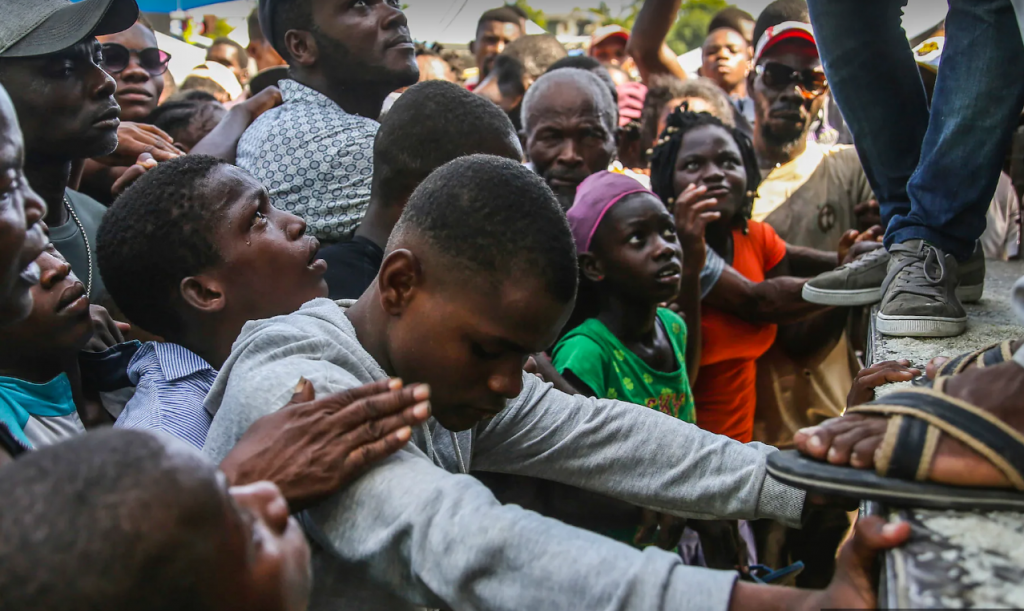 None of these Haitians are sleeper cells with intentions of blowing themselves and any American.
Taliban, Isis, al-Qaeda and now Isis-K are all the same, their ideology may differ on some points (their goal is to spread terror around the world) but they consider America and the nations with westerns democratic systems the enemy. This equation is comparable to the Democrats, Progressives, Republican and now the Tea Party whose primary goal is to keep America strong and spread democratic values around the globe — except for the Tea Party. The Tea Party's veiled agenda is the social extinction of Black people in America.
These are names of the 13 US Marines and Navy Sailor who died in Thursday's Taliban attack:
Marine Corps Staff Sgt Darin S. Hoover, 31, Army Staff Sgt Ryan C. Knauss, 23, Marine Corps Sgt Johnny Rosario-Pichardo 25, Marines Corps Sgt. Nihole L. Gee, 23, Marine Corps Cpl Hunter Lopez, 22, Marine Corps Cpl Humberto A Sanchez, 22, Marine Corps Cpl. Daegan W. Page, 23, Marine Corps Lance Cpl Jared Schmitz, 20, Marine Lance Cpl Dylan R. Merola, 20Marine Lance Cpl Kareem M. Nikoui, 20 and Navy Hospitalman Maxton W. Soviak, 22-years-old.
An information "junkie" and admitted reformed liberal. Victor likes to push the envelope to evoke healthy debates and conversations that will lead to a better understanding of each other and all of his neighbors.
Embrace the three Constance: Change, Justice, and Rightness.
The thought police are busy at work trying to suppress free speech — if allowed their march to madness — they will arrest your very thoughts.